Share this URL: http://pwfmbsr.peatix.com
The 4-Week Dementia Caregiver Mindfulness Based Stress Reduction Programme
Caring for a loved one with dementia

Caring for a loved one can be very rewarding, but it also involves many stressors: changes in the family dynamic, household disruption, financial pressure, and the added workload. So is it any wonder that caregivers are some of the people most prone to burnout? When caregiver stress and burnout puts your own health at risk, it affects your ability to provide care. It hurts both you and the person you're caring for. The key point is that caregivers need care too.


The Caregiver Mindfulness Based Stress Reduction Programme is aimed at
improving mental wellbeing at work, care, and life.
The programme is conducted 2 hours per week for 4 consecutive weeks on Saturdays.
This is loosely based on the research-validated Mindfulness-Based Stress Reduction (MBSR) technique as developed by Jon Kabat Zinn. It is a form of stress relief therapy administered by psychologists and more recently implemented in corporate training programmes for mental wellness.
For the caregiver training, in-person training, guided by a meditation teacher (Toby Ouvry
, ex-monk, 17 years experience, teaches at INSEAD),
will focus on the theory, science of meditation with hands-on guided meditations by the teacher. The digital training (through the use of MindFi) will focus on sustaining the practice without the teacher and emphasise more on integrating meditation/ mindfulness into daily routines such as meals, commutes and work.
All training described above will is offered complimentary to all Step Up, Speak Out! participants and Project We Forgot community members as expenses are covered by a social impact grant from RaiSE to MindFi. Research questionnaires to be filled in by participants at the start and end of the training program.
Limited slots are available, registration will close when all slots are filled up.

Please register for interest and the team will get back to you with confirmation.
Week 1: Introduction to Mindfulness




Date: 03/03/2018




Time:

2pm - 4pm
Location: Core Collective (Anson Road, Tanjong Pagar MRT)



Week 2:

Mindfulness of Body and Movement




Date: 10/03/2018


Time: 10am - 12pm
Location: Alzheimer's Disease Association Singapore ARTC, #06-02 (Boon Keng MRT)


Week 3:

Empathy, Compassion and Gratitude


Date: 17/03/2018
Time: 10am - 12pm
Location: Alzheimer's Disease Association Singapore ARTC, #06-02 (Boon Keng MRT)



Week 4:

Everyday Mindfulness




Date: 24/03/2018


Time: 10am - 12pm
Location:

NUS Enterprise, Blk 71 #02-01 (One-North MRT)

Please ensure that you are able to complete at least 3 out of 4 classes (including 1st and 4th class) to complete the course.
About Project We Forgot

Project We Forgot is a community for caregivers to persons with dementia (PWDs) that provides locally-relevant support, knowledge, and access to services. PWF does this through online and offline channels –
online
via our website and content, social media, and a dedicated social network (launching 2018);
offline
via local events.
About MindFi

MindFi
is an all-day mindfulness companion for your daily routine. No time to close your eyes & meditate? MindFi is a new & practical way to focus or relax better in your busy life, by meditating with open eyes! Practise in bite-sized, 3-minute chunks that are easily sprinkled into a busy day when you eat, commute or just take a break. Get inspired & mindful with food, nature, even social media! Unfocused at work? Try our "Deep Work" mode - a focus timer to be less distracted & more disciplined.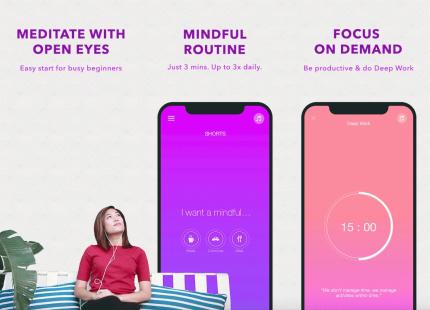 read more
Updates
The event description was updated. Diff#317405

2018-02-19 03:01:54
More updates
Mar 3
-
Mar 24, 2018
[ Sat ] - [ Sat ]
2:00 PM
-
4:00 PM
SGT
Add to Calendar
Venue

Multiple Locations - Anson Road, Boon Keng, One-North
Tickets

| | |
| --- | --- |
| Complimentary - Register for interest and we will get back to you with a confirmation | |
On sale until Mar 3, 2018, 1:00:00 PM
Venue Address

Anson Rd, Singapore

Singapore
Organizer
Want to find more groups and events like this?